This is it: the last day of this year's Slice of Life challenge.
Over the last month, I've enjoyed reading and "meeting" other bloggers. I've enjoyed writing every day – some serious posts, some poems, some silly things, memes and (in this post) gifs. I've also enjoyed re-reading my old 2016 Slices.
Ferris Bueller said it best: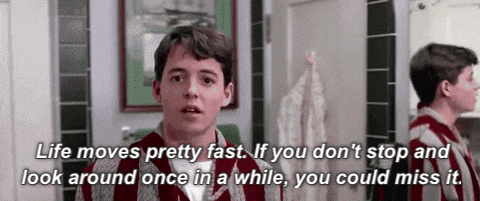 Participating in the Slice of Life challenge (for the second year) in a row has given me the chance not only to stop and look around – but even better, to stop and actually capture it. Writing is like a time capsule, a snapshot in words. This blog is like an album, a moment in time I can re-examine and see how much has changed from year to year. Next year, where March rolls around again, my son will be almost-four, in preschool; J may or may not be coaching baseball again; I will be finished with my policy fellowship and *fingers crossed* have published more of my poetry and nonfiction. Who knows what I'll write about then?
Thank you, Two Writing Teachers, for hosting this writing community. Thank you, Dr. Parker, for encouraging me to blog last year. And thank you, memory, for actually remembering that this was a thing and committing to the challenge for Year 2.
That's it, I guess. I'm grateful and tired. It's snowing outside (boo!). I have a glass of wine and a book to read. The month is over.